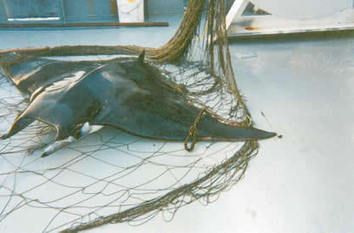 Earlier this week, federal fishery managers imposed emergency measures on the California drift gillnet fleet to protect endangered sperm whales. The action came two years after a pair of endangered sperm whales were killed in a single gillnet in 2010 in deep water west of San Diego.
The new measures from the National Marine Fisheries Service require that the swordfish fleet stop fishing for the season if a single endangered sperm whale is seriously injured or killed in a gillnet. All gillnet vessels that fish in deep waters (defined as 6,500 feet) must now carry on-board fishery observers at all times; before now, less than 20 percent of boats carried observers. And, for the first time, the gillnet fleet will be fitted with mandatory vessel monitoring systems that track the locations of every boat.
While these protections may prevent sperm whale deaths in the short term, the new regulations do little to stop the ongoing capture and accidental death of 130 or more other whales, dolphins, sea lions, and marine animals in the gillnet fishery every year. During the past decade, more than 1,300 whales, dolphins, and turtles drowned after getting tangled in California's large-mesh drift gillnets. More than 100,000 giant ocean sunfish and 10,000 blue sharks were also caught and discarded during the last 10 years.
It's time for this fishing practice to end. Drift gillnets are so deadly to marine life that the gear is banned in Oregon and Washington and on the open ocean. The method should be halted along the entire West Coast …
See on www.earthisland.org