All posts tagged shark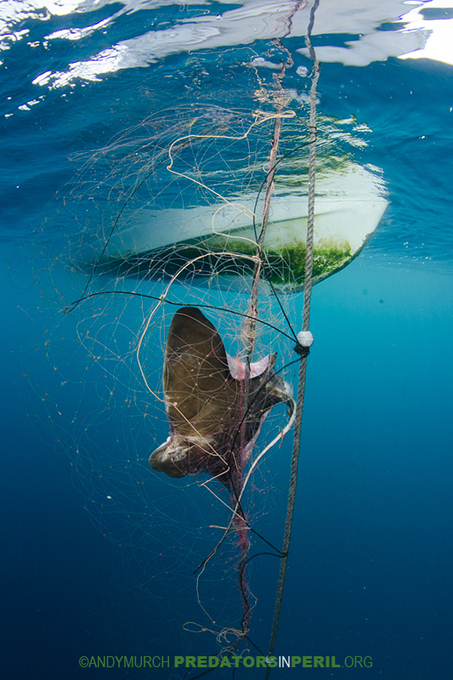 FREE SHARK CONSERVATION IMAGES! http://t.co/W9jcWbk0HM http://t.co/Lx3zx7WSHE
See on predatorsinperil.org
Posted by Domino Albert on October 29, 2013
http://myoceannews.wordpress.com/2013/10/29/free-images-of-dead-sharks-and-other-marine-predators-in-distress/
CITES plenary today accepted Committee recommendations to list five species of highly traded sharks under the CITES Appendices, along with those for the listing of both manta rays and one species of sawfish.
We're grateful to proponent governments for recognizing the value of thriving shark and ray populations, and for championing sound proposals," said Ania Budziak, Project AWARE's Associate Director. "We're proud that the divers' voice has contributed to achieving this key milestone in shark and ray conservation."
See on www.sciencedaily.com
Related articles
Posted by Domino Albert on March 16, 2013
http://myoceannews.wordpress.com/2013/03/16/cites-makes-historic-decision-to-protect-sharks-and-rays/
In just a few weeks the fate of vulnerable shark and ray species including the beloved Manta Ray and Hammerhead Shark will be decided by CITES authorities. The 16th meeting of  the Conference of the Parties (CITES CoP16) to be held in Bangkok, Thailand from 3 to 14 March 2013 offers an unique opportunity to secure trade protection for the most vulnerable species. We can't let these magnificent creatures disappear on our watch. CITES delegates need to hear loud and clear that we want them to vote YES for sharks and rays. Extinction is NOT an Option. Take Action!
3 Easy Ways to Voice Your Support for Shark Conservation at CITES 2013:
Sign the Petition – Join more than 120,000 concerned citizens who are urging decision makers to protect sharks. Sign the petition and ask your friends, family and colleagues to do the same.
Send a Letter to CITES Leaders – All you need to do is fill in the form and hit the send button. The letter asking CITES delegates to vote YES for sharks and rays will go direct to those who could make all the difference in just one click.
Spread the word that Extinction is NOT an Option:
- Download the sign and contribute a photo to Project AWARE's CITES 2013 photo album
- Add the #CITES4SHARKS  Twibbon to your Facebook or Twitter profile picture.
Whether you like sharks or not, saving them from becoming extinct is vital. The loss of sharks threatens the stability of the marine environment, and also threatens the socio-economically important recreational fisheries.
Sharks have been waiting a long time to get the protection that many terrestrial animals have received from CITES.  They can't wait any longer. Populations of several shark species have been decimated by over 95% and experts estimate that most of them will be lost within a decade if we don't take urgent conservation measures to protect them from over-exploitation, including targeted fishing, bycatch and finning.
With your petition signatures in their hands, the Project AWARE team who has been campaign for better shark protection for years is ready to represent your voice and demand that sharks and rays receive trade protections they desperately need but they need your support. The time to protect sharks and rays is NOW!
Related articles
Posted by Domino Albert on February 2, 2013
http://myoceannews.wordpress.com/2013/02/02/cites-2013-shark-conservation/
First study to provide estimates of reef shark losses in the Pacific Ocean are sobering. Researchers noted the enormous detrimental effect that humans have on reef sharks.
Many shark populations have plummeted in the past three decades as a result of excessive harvesting — for their fins, as an incidental catch of fisheries targeting other species, and in recreational fisheries. This is particularly true for oceanic species. However, until now, a lack of data prevented scientists from properly quantifying the status of Pacific reef sharks at a large geographic scale.
In a study published online April 27 in the journal Conservation Biology, an international team of marine scientists provide the first estimates of reef shark losses in the Pacific Ocean. Using underwater surveys conducted over the past decade across 46 U.S. Pacific islands and atolls, as part of NOAA's extensive Pacific Reef Assessment and Monitoring Program the team compared reef shark numbers at reefs spanning from heavily impacted ones to those among the world's most pristine …
Continue reading on www.sciencedaily.com
Related articles
Related articles
Posted by Domino Albert on April 28, 2012
http://myoceannews.wordpress.com/2012/04/28/scientists-provide-first-large-scale-estimate-of-reef-shark-losses-in-the-pacific-ocean/
The public support to close loopholes in the EU shark finning ban during last year's European Shark Week (October 15th – 23rd) has been phenomenal. Thanks to the 165,000 people who signed the "Make the Push" petition, we are getting closer to make shark protection in Europe a reality! I am proud to be part of this effort.
The EU Parliament now needs to agree to the Commission's proposal on the shark finning ban and CITES delegates need to grant trade protection to the most threatened shark species. So let's keep the pressure on! We're nearly there …
Related articles
Posted by Domino Albert on March 22, 2012
http://myoceannews.wordpress.com/2012/03/22/i-made-the-push-to-protect-europes-sharks/
Give back to the Oceans

Ocean News in French

#GivingTuesday 3rd December

#YouShopAmazonGives

An error has occurred; the feed is probably down. Try again later.

New Sea Life Mag for Kids! Subscribe Now!

End Fish Discards

Ocean Splash of Tags